Lulworth Cove
West Lulworth
Dorset
BH20 5RQ

Telephone: England (01929) 400404 or (01929) 400261
Fax: (01929) 400508
E-mail : dukepayne@hotmail.com
---
IF THIS SITE IS RUNNING SLOW, TRY OUR MIRROR SITE AT http://www.millhousehotel.fsnet.co.uk.
---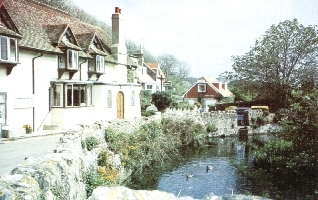 Idealy situated right in Lulworth Cove only 150 yards from the water's edge with unrestricted views across The Duck Pond opposite the Hotel.

Lulworth Cove is one of the few locations where you can Drive & Park for walking the South West Coastal Path with walks to the famous landmarks - such as Lulworth Cove, Durdle Door, Stair Hole and the Fossil Forest.
---
You can reach the Proprietors Julian & Jenny Payne at dukepayne@hotmail.com with any inquiries.